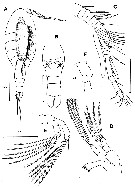 issued from : G.A. Boxshall & T.M. Iliffe
in
Zool. J. Linn. Soc., 1987, 91. [p.246, Fig.13].
Female (from lanzarote, Canary Islands): A, habitus (dorsal) showing median ovary and asymmetrical oviduct as visible through integument; B, urosome (ventral); C, A1 (dorsal); D, Md (posterior); E, A2 (posterior); F, P5 (ventral).
Scale bars = 0.050 mm except for A (0.100 mm) and F (0.025 mm).
Nota: Prosome 5-segmented; no carapace-like extension present on maxilliped-bearing somite so 1st pedigerous somite completely exposed. Nauplus eye absent. Rostrum small posteroventrally directed, not fused to labrum. Urosome 5-segmented; 1st somite bearing P5, 2nd with paired genital openings either side of ventral midline; 3rd fused to 2nd but line of fusion marked by a complete suture. caudal rami about twice as long as wide, armed with a long inner seta on distal margin, 1 short distal seta, 1 lateral seta and 1 dorsal seta. A1 27-segmented. P5 comprising a large basal segment armed with an outer distal seta, and on oval terminal segment bearing an apical seta. P6 reprsented by the seta and spinule present on the plate closing off the genital openings.