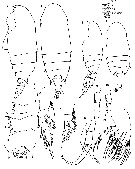 issued from : C.B. Wilson
in
Bull. U.S. natn. Mus., 1950, 100 (14) (4). [Pl.20, Figs.271-274].
Female (from W Aleutian Island): 271, habitus (dorsal); 273, P5.
Nota: Head and 1st thoracic segment separated, 4th and 5trh fused.
Corners of 5th thoracic segment rounded.
Urosome 3-segmented, half as long as the metasome. Genital segment as long as the two abdominal segments combined, its lateral margins convex.
Anal segment wider than long with straight sides, incised at the center of the posterior margin.
A1 just reaching the posterior of the thorax and rather sparsely setose.
Exopod of A2 scarcely longer than the basal segment of the endopod.
Md with 1 large acute outer tooth separated from the others and a row of smaller teeth across the end diminishing in size inwardly.
P5 uniramose, 3-segmented, basal segments totally fused across the midline; middle segments subrectangular and slightly curved, with a large plumose seta at the outer distal corner; 3rd segments globular at the base and then narrowed into a long acuminate curved blade, which is perfectly smooth.
Male: 272, habitus (dorsal); 274, P5.
Nota: Head and 1st thoracic segment separated, 4th and 5th fused. 5th thoracic segment with rounded posterior corners.
Urosome 4-segmented, as long but only a third as wide as the metasome.
Genital segment wider than the abdomen, with strongly convex margins, making it a little wider than long; middle and anal segments with straight sides.
Caudal rami 1/2 longer than wide and nearly as long as the anal segment.
A1 reaching the middle of the genital segment.A2, mouth parts, and first four pairs of legs like those of the female.
P5 uniramose, 4-segmented, relatively long and slender; basal segment of the right leg bent at right angles, 2nd segment with a long seta on the posterior surface at about the center; the 3rd segment with a large triangular process on the inner margin; 4th segment curved into a half circle, with a small terminal seta and another near the center of the concave margin. The basal segment of the left leg is very short and has s short seta at the inner distal corner; the 2nd and 3rd segments each carry an outer seta, while the 4th segment is split and each portion is tipped with a large terminal seta.