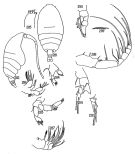 issued from : G.D. Grice & K. Huisemann
in
Proc. U.S. natn. Mus., 1967, 122 (3583). [p.65, Figs.281-287; p.66, Figs.288-292].
Female (from 13°30'N, 65°03'E): 281, habitus (dorsal); 282, idem (lateral right side); 283, A2; 284, Md (mandibular palp); 285, Md (biting edge); 286, Mx1; 287, Mx2; 288, Mxp; 289, distal portion of strong spine on Mxp (enlarged); 290, P1; 291, P4 (exopod incomplete); 292, endopod of P4 (another view).
Nota: Head and 1st thoracic segment incompletely separate, 4th and 5th incompletely separate. Abdomen 4-segmented. Anal segment longer than preceding segment and furca. Rostrum large and obtuse. A1 reaching to 5th thoracic segment; segments 8 and 9, 24 and 25 fused. Exopod of A2 7-segmented, about twice the length of the endopod. Md palpus with 2 setae. Mx1 with 2 setae on 2nd inner lobe, 5 setae on endopod and 2 setae on exopod. Mx2 with 5 lobes bearing 1, 3, 3, 2 setae, respectively. Mxp large, with long and coarse setae distally. P1 with 3-segmented exopod and 1-segmented endopod; 1st and 2nd exopodal segments without external spines. Exopods of P2 to P4 broken off. Endopods of P2 2- or 3-segmented, of P3 and P4 3-segmented; 3rd endopodal segments of P3 and P4 with 6 setae.