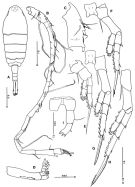 issued from : S. Ohtsuka & J.W. Reid
in
J. Crustacean Biol., 1998, 18 (4). [p.784, Fig.5].
Female (from Black River Morass, Jalaica): A, habitus (dorsal); B, A1; C, A1 (1st segment); D, Md (mandibular palp); E, P1 (posterior); F, P2 (anterior); G, P3 (anterior); H, P4 (posterior); I, P5 (right basis and exopod omitted, anterior).
Scale bars in mm.
Nota: Cephalosome without marginal prominences such as those found in
T. angularis
. P5 similar to that of
T. angularis
, but different from latter in having terminal segment relatively shorter than in latter, outer spine located at midlength, terminal inner process swollen basally.