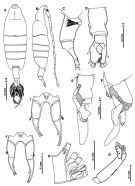 issued from : S. Ohtsuka, M.M. El-Sherbiny & H. Ueda
in
Crust. Res., 2000, 29. [p.3, Fig.1].
Female (from N Red Sea): A, habitus (dorsal); B, idem (lateral right side); C, urosome (lateral right side); D, idem (dorsal); E, spermatophore attached to urosome (dorsal, attachment disc indicated by shaded part); F, idem (lateral left side, idem); G, Md (mandibular palp); H, maxillary basis and endopod; I-J, P5 (anterior.
A-C, G-I : holotype; D-F, J: paratypes.
Nota: Urosome 2-segmented. Genital compound somite with sinouos lateral margins, bearing small round knob with minute peg-sensillum on left side at midlength; Subterminalportion of compound somite constricted (possibly indicating secondary fusion between genital compound somite and 2nd original urosomite in former stage). Anal somite almost fused to caudal rami (with suture distinctly visible). Mandibular exopodal segments almost fused, with 4 transverse rows of spinules. The expansion of the left caudal ramus more or les varies between individuals