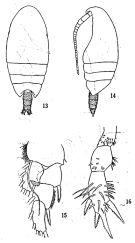 issued from: Q.-c Chen & S.-z. Zhang
in
Studia Marina Sinica, 1965, 7. [Pl.17, 13-16].
Female (from E China Sea): 13, habitus (dorsal); 14, idem (lateral left side); 15, left P1 (anterior); 16, P5 (posterior).
Nota: Head and 1st thoracic segment fused, 4th and 5th fused. Forehead rather broad, rostral spines, large. A1 24-segmented. Exopod of A2 longer than endopod. Endopod of P1 with outer middle swollen. Length of cephalothorax 4.7 times that of urosome. Urosome 4-segmented with numerous hairs. Anal segment very short. Length and width of furcal rami about equal. Apical spine of 3rd exopodal segment of P2-P4 coarser, with coarser outer marginal denticles.