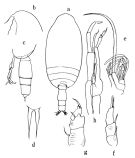 issued from : O. Tanaka
in
Publ. Seto Mar. Biol. Lab., 1962, X (1). [p.96, Fig.149].
Male: a, habitus (dorsal); b, forehead (left lateral side); c, last thoracic segment and urosome (left lateral side); d, rostrum (dorsal view); e, Mx2; f, exopod of P1; g, P2 (basipods); h, P5.
Nota: Mx2 with 3 long vermiform and 5 bud-like filaments on the segments of the endopod. In P2 the 2nd basipod is furnished with 3 small pointed teeth on the inner margin (about the middle).