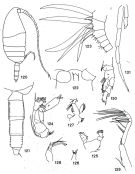 issued from G.D. Grice
in
Crustaceana, 1972, 23 (3). [p.236, Figs.120-131].
Male (from off S Cap Cod): 120, habitus (lateral right side); 121, urosome (lateral); 122, forehead (ventral view); 123, A1 (proximal segments); 124, A2; 125, Md (mandibular palp); 126, Md (biting edge); 127, Mx1; 128, Mx2; 129, Mxp; 130, P1; 131, P5.
Nota: Head and 1st thoracic segment separate, 4th and 5th separate. Segments2-4 of urosome with numerous protuberances. Proximal segments of A1 with long sensory setae.Right P5 3-segmented, left 5-segmented.