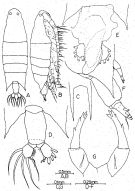 issued from : B.H.R. Othman
in
Malay. Nat. J., 1986, 39. [p.195, Fig.1].
Female (from Straits of Malacca): A, habitus (dorsal); B, idem (lateral right side); C, rostrum; D, urosome (dorsal); E, urosome with spermatophore (ventral); F, urosome (lateral right side); G, P5.
Nota: Length ratio Prosome/Urosome 5.16 : 1; prosome length /width ratio: 2.95 : 1.
Without cephalic hook.
Rostrum directed postero-ventrally, bifid.
Eyes small, separated by c. 2,5 x the eye diameter.
Head and thorax separated.
A distinct indentation occurs on both lateral and dorsal profiles about midlength of the cephalosome.
4th and 5th thoracic segments fused.
Posterior corners of the last thoracic segment symmetrical; the processes extend to about 2/3rd the length of the urosome.
Urosome 2-segmented.
Genital segment almost symmetrical, smooth.
Length ratios of the urosomal segments: 66:6:28.
Anal segment symmetrical and smooth.
Sperm-sac situated on the left side of the urosome extending beyond the caudal rami by c. 1,5 x the length of the caudal rami.
Caudal rami almost symmetrical, the right ramus only marginally longer but slightly thinner than the left.
A1 24-segmented, reaching to the middle of the genital segment (when extended).
A2, Md, Mx1, Mx2 and Mxp are not distinguishable from the other members of the genus. P1 to P4 uniramous and symmetrical and are without any special features.
P5 uniramous and symmetrical but for the 2nd basipodal segment. The left segment is slightly longer than the right