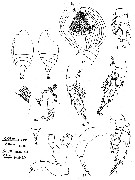 issued from : G.D. Grice
in
Fish. Bull. Fish and Wildl. Ser., 1962, 61. [p.204, Pl.15, Figs.12-22]. As
Amallophora smithae
.
Female (from 00°16'N, 140°12'W): 12-13, habitus (dorsal and lateral); 14, rostrum; 15, Md; 16, Mx1; 17, terminal part of Mx2; 18, P1; 19, P2; 20, P3; 21, P4; 22, P5.
Nota: Head and 1st thoracic segment fused, 4th and 5th fused.
Posterior margin of cephalothorax with a small indentation (in lateral view).
A1 23-segmented, short, not reach the end of the cephalothorax
Endopod of A2 slightly less than 3/4 the length of the exopod; endopodal segment 1 with 2 setae, segment 2 with 8 setae on the inner lobe and 7 setae on the outer lobe; exopod with 8 setae all of which are densely plumose.
Basal segment of Md with 2 setae; 9 setae on the distal segment of the endopod and 1 seta on the proximal segment; exopod with 6 setae.
Mx1: 11 setae on the 1st inner lobe, 2 on the 2nd inner lobe, 4 on the 3rd inner lobe, 5 on the 2nd basal segment, 9 on the endopod, 8 on the exopod and 9 on the external lobe; 2 groups of small spines present on the surface of the endopod.
Terminal part of Mx2 with 1 enlarged sensory organ, 4 smaller sensory organs and 3 worm-like appendages.
1st and 2nd basal segments of Mxp with 7 and 5 setae, respectively; the 5 endopodal segments with 4, 4, 3, 3 (plus 1 external seta) and 4 setae.
P5 small, 2-segmented; there is a stout and finely toothed spine arising from the distal segment.