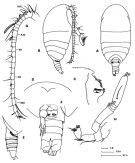 issued from : K. Schulz & W. Beckmann
in
Sarsia, 1995, 80. [p.200, Fig.1].
Female (from N Greenland Sea): A, habitus (dorsal); B, idem (lateral right side); C, forehead (lateral); D, rostral cone (ventral view); E, posterior part of metasome and urosome (lateral right side); F, idem (ventral; G, A1; H, A2.
Scale bars = 0.100 mm.
Nota: Cephalosome and pediger 1 as well as pedigers 4 and 5 separated except ventromedial edge of the latter.
- Posterior corner of prosome rounded and covering 1/2 of genital double-somite.
- Ratio of length of prosome to length of urosome 3.8 : 1.
- Urosome of 4 somites.
- Genital double-somite only slightly dilated laterally, ventral swelling only weakly produced. Spermathecae curved dforwatd, elongate, digitiform.
- Anal somite as long as preceding somite.
- Caudal rami slightly longer than wide, armed with 4 distal setaze and a fine ventral seta implanted about 2/3 along medial margin.
- Rostrum a simgle cone-shaped knob lacking filaments.
- In lateral view, labrum and paragnaths considerably protrudent ventrally (of similar appearance as in
Tharybis
) and equipped with setules distally.
- A1 24-segmented, reaching to end of genital double-somite.
- A2 coxa with 1 inner seta; basis bearing 2 unequal setae at inner distal corner; endopod 2-segmented, 1st segment with 2 subterminal inner setae, distal compound segment shorter than preceding , with 8 inner setae on proximal lobe and 6 setae on apical lobe; exopod barely triple length of endopod, 6-segmented, terminal segment longer than endopod , bearing 1 inner seta at 1/4 length and 3 apical setae; setal formula: 0, 1, 1, 1, 1, 4.