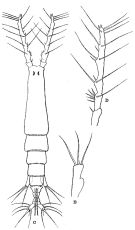 issued from : R.B.S. Sewell
in
The John Murray Expedition, 1933-34, Scientific Reports, IX (2), 1949. [p.140, Fig.39, C-E].
Female (from Nankauri Harbour, Nicobar Is.): C, habitus (dorsal); D, A1; E, P5.
Nota: Proportional lengths of the anterior and posterior regions of the body as 83 to 17. Proportional lengths of the various segments of the body as 493:104:93:88:52:41:36:26:15:52 = 1000. A pair of well-developed eyes dorsally. Abdomen 3-segmented, but is an incomplete suture that runs across the genital segment. Anterior part of the genital segment is produced on each side in a short, rounded prominence, ventrally a pair of eggs-setae (broken). Caudal rami divergent, each bears 5 well-developed setae, and 1 small accessory seta on the dorsal aspect. P5 is produced on its inner margin in a small but distinct inner lobe witout seta, and 3 sub-equal setae spring from the rounded distal margin.