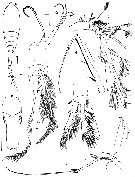 issued from : G.A. Boxshall
in
Bull. Br. Mus. nat. Hist. (Zool.), 1979, 35 (3). [p.252, Fig.23].
Female (from NE Atlantic): A, habitus (dorsal); B, anterior portion of urosome (dorsal); C, A1; D, spine from segment 7 of A1; E, A2; F, tip of Md; G, Mx1; H, Mxp; I, P1; J, P5.
Scales 0.5 mm unless otherwise indicated.