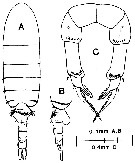 issued from : T.C. Walter
in
Bull. Mar. Sc., 1989, 45 (3). [p.622,Fig.17].
Female; A, habitus (dorsal); B, last thoracic segment and urosome (lateral right side); C, P5 (anterior view).
Nota: Ratio prosome/urosome 1:1.8. Thoracic segments 4 and 5 separate, Th5 corners rounded with fine hairs. Urosome 4-segmented; posterodorsal margin of urosomal segment 3 asymmetrical, overlaps onto Urosomal segment 4 which has lateral spinules. caudal rami slightly asymmetrical; Urosomal segments and caudal rami with proportions 31:17:21:10:21.