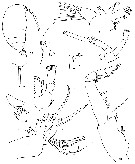 issued from : G.D. Grice & K. Hulsemann
in
J. Zool., 1965, 146. [p.237, Fig.12]. As
Xanthocalanus paraincertus
.
Female (from NE Atlantic): a, habitus (lateral); b, forehead (lateral); c, rostral filaments (ventral view); d, posterior end of cephalothorax and urosome (lateral); e, A2; f, Md (mandibular palp); g, Md (cutting edde of the gnathal lobe); h, Mx1; i, Mx2; j, Mxp.
Nota: Head and 1st thoracic segment separate, 4th and 5th separate.
Rostral filaments long.
A1 24-segmented (segments 8 and 9 fused), reaches to end of cephalothorax.
Terminal segment of exopod of A2 more than 1/2 the length of the exopod.
Mx1 with 2 setae on 2nd inner lobe, 3 setae on 3rd inner lobe, 8 setae on endopod and 1 seta on exopod.
Mx2 with sensory appendages and 2 coarse spine-like setae distally.