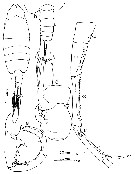 Issued from: Mulyadi, S. Nishida & S. Ohtsuka
in
Crustaceana, 2017, 90 (1). [p.96, Fig.10].
Male (from 1°23.491'N, 125°06.460'E): a, habitus (dorsal); b, urosome (dorsal); c, right A1 (number of ancestral segment indicated by Roman numerals); d, right P5: e, left P5.
Nota:
- Prosome about 2.9 times as long as urosome.
- posterior corners of prosome produced into asymmetrical, rounded lobes, left side wider than right.
Genitalsomite slightly asymmetrical, left margin more convex than right, and with process distally.
- Urosomite 2 right lateral side with small posterior process with distal setule.
- Caudal rami asymmetrical, right ramus slightly longer than left.
- Right A1 serrate ridge of segment XX produced proximally to mid-length of segment XIX; anteroproximal process on segment XIX acutely triangular, exyending to proximal 1/3 of segmenr; fused segments XXI-XXIII produced into 2 processes, proximal one produced into short spine-like process, distal one produced into long spine-like process extending near distal end of fused segments XXIV-XXVIII.
- P5 : Right leg with coxa broad without ornament; distal half of basis much broadened and curved medially bearing semi-ytiangular medial process with proximal and terminal setules, proximolateral margin of segment armed with finger-like process, posterior surface with spine near base of exopod; exopod stout, curved medially at proximal 1/3, with 2 medial setules and subdistolateral setule. Left leg with coxa smooth; basis elongate0 with proximomedial broad-based digitiform process directed sub-distally with subterminal setile, and pillow-like process on distal half of medial margin; exopodal segment 1 curved medially with medial papilla with distal setule; ; exopodal segment 2 curved medially with medial setule near midpoint, tip of segment produced into rounded process with 2 setae.