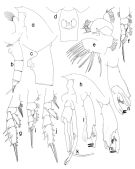 issued from : T. Park
in
Bull. Scripps Inst. Oceanogr. Univ. California, San Diego, 1995, 29. [p.136, Fig.26].
Female: a, forehead (left side); b, urosome (left); c, d, genital somite (left, ventral, respectively); e, Mx1 (first inner lobe separated), posterior; f, P1 (anterior); g, P2 (anterior).
Nota: Similar in habitus to
P. eltaninae
but distinguishable from it and other related species.
Laterally, rostrum with narrower base; its anterior side originating a short distance from suprafrontal sensilla.
Genital somite elongate,; dorsal wall smoothly arched without noticeable hump; ventral margin of genital flange slightly emarginate or nearly straight, sloping in a posteroventral direction; posterior edge of genital field produced into a large lobe, ventral side of which roughly parallel to long axis of body; anterior margin of genital prominence nearly straight; posterior margin slightly bulging, gradually sloping and, together with posterior ventral wall of somite, forming a smooth curve.
Cephalosomal appendages including setation of Mx1 as in
P. eltaminae
female.
In P1 exopod, outer margins of first 2 segments not strongly sigmoid; outer spine of 2nd segment reaching base of outer spine of 3rd segment, which is a little more than 1/3 length of terminal spine.
Male: h, forehead (left); i, P1 (anterior); j, P2 (anterior); k, P5 (anterior); l, distal exopodal segments of left 5th leg (anterior); m, idem (lateral, tilted clockwise); n, idem (medial).
Nota: The serrated lamella of the left P5 resembles closely that of
P. barbata
but the digitiform process of the left P5 exopod is distally enlarged and rounded ibstead of tapering in a spiniform process as in the latter.