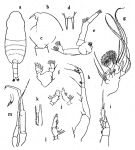 issued from : O. Tanaka
in
Publ. Sero Mar. Biol. Lab., 1960, VIII (1). [p.111, Fig.93]. As
Amallophora oculata
.
Male (from Sagami Bay, Japan): a, habitus (dorsal); b, forehead (lateral); c, last thoracic segment and 1st urosomal segment (lateral left side); d, rostrum (anterior aspect); e, A2; f, Md; g, Mx2; h, Mxp; i, P1; j, endopod of P2; k, terminal spine of exopod of P2; l, endopod of P3; m, P5.
Nota: Head and 1st thoracic segment separate, 4th and 5th fused.
The frontal margin of the head hollowed near the base of the rostrum (viewed from the lateral). A single ventral eye (deep carmin-red) under the projection of the forehead.
Rostrum with 2 strong spines attached to the basal portion.
The abdominal segments and caudal rami in the proportional lengths 12 : 30 : 26 : 16 : 6 : 10 = 100.
The caudal rami slightly obique.
A2 exopodite 1.5 times as long as endopodite; the 1st basal segment with a tuft hairs on the posterior surface.
Mx2 with a large button-shaped sensory appendage and 5 small brush-shaped sensory setae on endopod; the setae on the apical lobes long and flexible.
Right P5: terminal segment very slender, 3rd and 4th have each an outer marginal spine, 2nd has a small rudimentary endopod. Left P5: terminal segment small, inner margin serrated; 4th with slender spines on the distal margin; 3rd with a small outer-edge spine; 2nd with a rudimentary endopod.