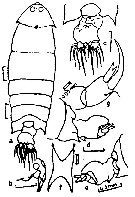 issued from : E.G. Silas & P.P. Pillai
in
J. mar. biol. Ass. India, 1973 (1976), 15 (2). [p.831, Fig.25].
Female (from Indian Ocean): a, habitus (dorsal); b, forehead (lateral); c, urosome (dorsal); d, idem (lateral left side); e, idem (lateral right side); f, rostrum (anterior view); g, P5.
Scale as in
Calanopia minor
.
Nota : Head anteriorly broader than the condition found in
Pontella
sp . A. Dorsal eye lenses wide apart, rostral lens not developed. Head and Th separate, Th4 and Th5 separate.. Th5 produced posteriorly into lobes, nearly symmetrical, tips of which reaches to anterior two-third of urosome ; inner flanges of Th5 similar on either side of the insertion of urosome. Urosome 2-segmented, segmentation between urosomal segment 1 and urosomal segment 2 weakly marked ; psterior margin of genital segment extends posterd, enveloping part of right ramus and projecting over left ramus covering proximal half of the ramus. Genital segment on lateral view with its posterior dorsal part in form of a rounded 'shield' ; 2 uneven protuberances present on right lateral margin of genital segment, larger one situated towards proximal part and smaller one towards its right tip ; left lateral margin of segment swollen at its distal part. Caudal rami short , asymmetrical, right ramus being slightly larger than left. P5 with exopod nearly 2.8 times longer than endopod.