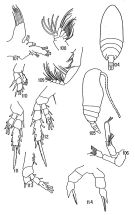 issued from : G.D. Grice & K. Huisemann
in
Proc. U.S. natn. Mus., 1967, 122 (3583). [p.53, Figs.104-106; p.54, Figs.107-114].
Female (from Indian Ocean): 104, habitus (dorsal); 105, idem (lateralright side); , 106, A2; 107, Mx1; 108, Mx2; 109, Mxp; 110, P1; 111, P2; 112, P3; 113, P4 (2nd and 3rd exopodal segments broken off); 114, P5.
Nota: Head and 1st thoracic segment fused, 4th and 5th incompletely separate. Rostral filaments absent. A1 23-segmented (segments 8 and 9 fused), reaching to 5th thoracic segment. Exopods of P1 to P4 3-segmented, endopod of P1 1-segmented, P2 2-segmented, P3 and P4 3-segmented. Scattered spines on terminal endopodal segments of P2 to P4. P5 3-segmented with 1 terminal and 1 internal spine on distal segment.