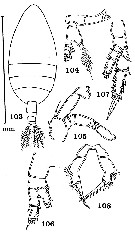 issued from : C.B. Wilson
in
Scientific Results of Cruise VII of the Carnegie during 1928-1929. Biology-I. Carnegie Inst. Wash. Publ. 536, 1942. [p.231, Figs.103-108].
Female (from Samoan islands): 103, habitus (dorsal); 104, Md; 105, A2; 106, P1; 107, P4; 108, P5.
Nota: Head and 1st thoracic segment fused, 4th and 5 th fused, posterior corners bluntly rounded and projecting slightly backward.Urosome 4-segmented. Anal segment somewhat triangular, longest on the mid-line and considerably shortened on the lateral margins, leaving the posterior corners obliquely truncated. caudal rami about as wide as long, divergent, each with 4 setae, the 2nd inner one longer than the entire urosome; Rostrum composed of 2 stout filaments; A1 slender, reach to about the middle of the abdomen. P5 very characteristic.