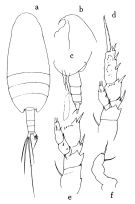 issued from : O. Tanaka
in
Publ. Seto Mar. Biol. Lab., 1962, X (1). [p.47, Fig.132]. As
Scolecithricella longipes
.
Female (from Sagami Bay): a, habitus (dorsal); b, forehead (left lateral side); c, last thoracic segment and urosome (left lateral side); d, P2; e, P3; f, 5th pair of legs (abnormal: right leg stump), the left leg incompletely 3-jointed.
Nota Female:
- Abdomen 4-segmented; proportional lengths of abdomen and caudal rami 38 : 21 : 19 : 5 : 17 = 100.
- Genital segment cylindrical, longer than wide.
- Caudal rami 1.7 times as long as wide.
- A1 21-segmented, reaches back to the distal margin of the 2nd abdominal segment.
- A2 exopod about as long as endopod (23 : 22).
- Mx1 with 7+2 setae on the outer lobe, 6 setae on exopod, 5+3 setae on endopod, 5 setae on the 2nd basal segment.
- Mx2 with 3 long vermiform and 5 bud-like sensory filaments on the distal segments.
- P1 to P4 as those of
Scolecithrix vittata
.
- P2 with a moderately long outer edge spine on the 1st exopodal segment, extending about to the middle of the 2nd segment. Terminal spine of exopod with 34 teeth.
- P3 and P4 with terminal spine of exopod each 24 and 38 teeth.
- In the present specimen, P5 of abnormal structure; the right leg stump; the left leg incompletely 3-segmenred; the spine on the distal segment not strong.