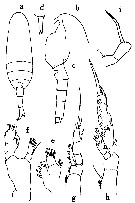 issued from : O. Tanaka
in
Publ. Seto Mar. Biol. Lab., 1961, IX (1). [p.189, Fig.126]. As
Racovitzanus porrecta
.
Female (from Japan: Suruga Bay): a, habitus (dorsal); b, forehead (lateral); c, last thoracic segment and urosome (lateral, left side); d, rostrum (frontal view); e, distal part of Mx1; f, Md palp; g, P1; h, P5.
Nota:
- Cephalothorax and abdomen in the proportional lengths 70 : 30.
- Head and 1st thoracic segment fused, pediger segments 4 and 5 incompletely separate.
- Last thoracic segment with lateral distal corner acutely pointed at the apex.
- Urosome 4-segmented; proportional lengths with caudal rami 28 : 17 : 17 : 27 : 17 = 100.
- Caudal rami asymmetrical, left side much longer and wider than the right.
- A1 broken, segments 8-9-10 fused.
- Exopod of A2 little shorter than endopod.
- Endopod of Md about 2/5 as long as exopod.
- Mx1 has 7 long and 2 short setae on the outer lobe, 5 setae on exopod, 5+3 setae on endopod, 2 setae on 2nd basal segment.
- Mx2 has 5 long vermiform filaments and 3 short ones on the distal segments.
- P1 with the outer edge spine on the 1st segment of the exopod absent; that of the 2nd segment long and reaches the distal margin of the 3rd exopodal segment. The inner marginal seta on the distal margin of the basis absent.
- P2 exopod 3-segmented and endopod 2-segmented; the outer edge spine on the 1st exopodal segment short and curved, about 1/3 the length of the outer margin of the following segment; the terminal spine of exopod with 17 teeth. Posterior surface of the 2nd and 3rd segments of the exopod and 2nd segment of endopod furnished with groups of small spines, which are dense.
- P3 and P4 exopod and endopod 3-segmented each.
- Left leg of P3 was abnormal structure, composed of exopod 2 segments and endopod 3-segmented.
- P5 2-segmented, distal segment with a long serrated seta on the inner distal corner.