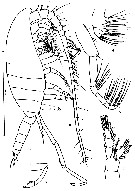 issued from : M.W. Johnson
in
Limnol. and Oceanogr., 1963, 8 (1). [p.91, Fig.2].
Male (from 81°14'N, 163°50'W): 2, habitus (lateral); 3, tip of left P5 (enlarged); 4, Mx2; 5, Mxp; 6, P1.
Nota: Endopod of P1 1-segmented; exopod 3-segmented, each segment bears 1 external spine. Left P5 exceeddingly long with 5 segments; the first 3 segments (i.e, the 2 basal and 1st exopodal) are roughly of equal length, although the 1st basal is slightly longer than the others, the 4th segment is about 1/3 as long as the preceding segment and the 5th segment is short and somewhat claw-shaped with a pad covered with fine setae, the total length of the leg is about 1.75 times that the urosome; the right leg is short, reaching about to the end of the 1st basal segment of the left leg, and consists of 2 broadened basal segments and 3 exopodal segments, which may be partly fused. A1 reach a little beyond the end of the caudal rami; the 5th segment from the end (a in figure) of the right A1 is elongated, while the corresponding segment is normal in the left A1. Mx2 is not provided with sensory structures.