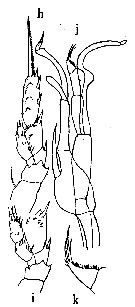 issued from : O. Tanaka
in
Publ. Seto Mar. Biol. Lab., 1961, IX (1). [p.174, Fiig.119, h-k]. As
Scaphocalanus subbrevicornis
.
Male (from Japan: Izu Region): h, P2; i, P3 (part.); j, P5; k, distal segment of left P5.
Nota:
- Cephalothorax and urosome in proportional lengths 68 : 32.
- Head and pediger segment 1 fused, 4th and 5th incompletely separated.
- Last thoracic segment with lateral distal corner rounded.
- Rostral filament attenuates gradually into a fine point.
- Urosome 5-segmented; urosomal segments and caudal rami in proportional lengths 10 : 29 : 25 : 23 : 2 : 11 = 100. The 3rd abdominal segment usually longer than the 4th.
- Left A1 20-segmented (segments 8-10 fused, 11-13 fused, 24-25 fused); right A1 19-segmented, extends to the end of the 3rd urosomal segment.
- Exopod of A2 about as long as the endopod.
- Md with exopod as long as the endopod.
- Mx1 with 5 setae on exopod, 7 long and 2 short setae on the outer lobe; endopod and inner lobes reduced.
- Mx2 reduced, with soft-skined filaments on the distal segments.
- Terminal spine of exopod of P2 with 34 teeth.
- P5 extends to the distal margin of the 3rd urosomal segment; right leg with a short endopod which extends slightly beyond the distal margin of the 2nd basal segment of the left leg; 1st segment of the exopod has a fairly long process on the distal margin ofthe segment; Tthe endopod of left leg 1-segmented, but there is a slight notch on the middle of the outer margin where the segment swollen outwardly; the distal segment of exopod of the left leg as figured (k).