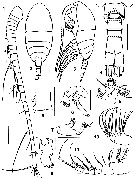 issued from : V. N. Andronov & K. N. Kosobokova
in
Zootaxa, 2011, 2809. [p.39, Fig.3].
Female (from 85°45'N, 177°03'E): 1, A1; 2,-3, habitus (dorsal and lateral, respectively); 4, urosome (ventral); 5, genital double somite (lateral, left side); 6, A2; 7, Md (mandibular palp); 8, Md (mandibular blade); 9, Mx1; 10, Mx2; 11, Mxp.
Scale bars: 0.1 mm.
Nota: Prosome nearly 2.9 times as long as urosome and 2.1 times as long as wide
1st pediger separate from cephalosome, 4th and 5th pedigers fused.
A1 24-segmented, not reaching anal somite.
Genital double somite almost symmetrical ventrally, slightly expanding laterally approximately equal in length to two following somites combined. Anterior part of genital double somite protruding ventrally; spermathecae visible in ventral view but not obvious when viewed laterally.
Anal somite nearly two times longer than preceeding somite.
Caudal rami slightly asymmetrical, with left ramus slightly longer than right, both bearing 4 setae.